Live EP reviews
Live at the Basement E.P. received praises from Media.
RELEASES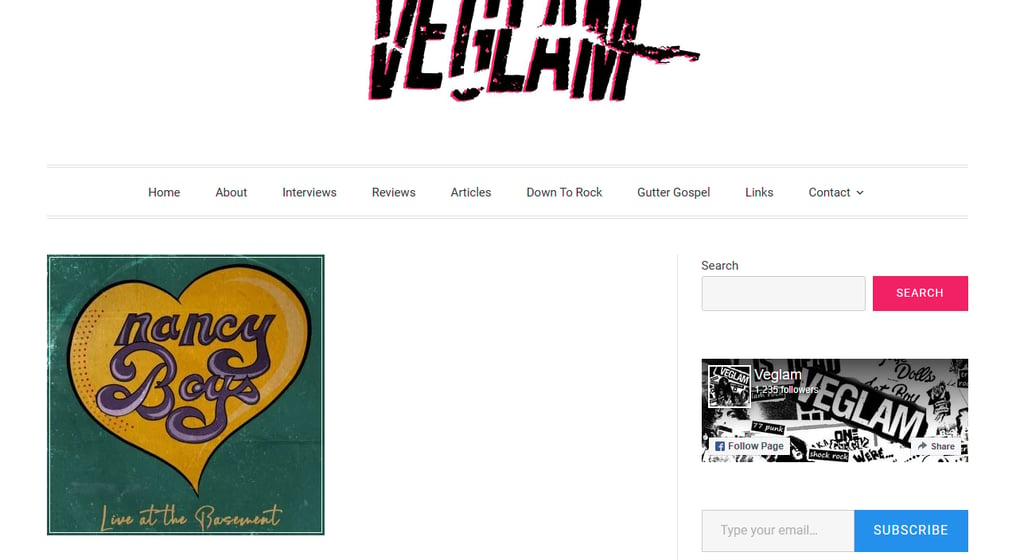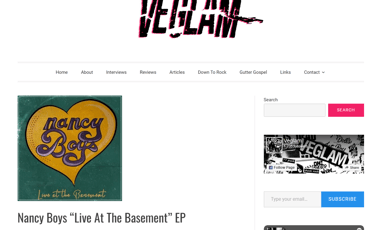 Our debut EP has received fantastic feedback so far. Of course, you may think, and we agree with you.
But we also get Homophobic and Frenchphobic (is that even a word?) comments.
Masculinists are uncomfortable with us. Good!

RPM review:
Woh! Nancy Boys are in the house and they've brought the glamour and feather boas and a trolly full of retro Rock n Roll n booze. Swinging their hips on 'Bondage Love' as they turn the clocks back to the 70s when Aerosmith could walk the walk and the Hollywood Brats were the cool kids. This four-track EP is so addictive with Rock n Roll, laid back and boogieing from their Paris HQ to the world this is superb.
They do a fine line in Dolls meets 70s Rockers with Riffs n cowbells n wooh hoos, its got plenty of swing and they can write banging tunes – which to be fair is all you need.
Get on it kids and tell em RPM sent you. If you're not at least dancing like Jagger as the boys knock out 'The Nancy Boys Are Coming' then Rock n Roll might not be for you.
We need more bands like Nancy Boys they just get it and ooze grooves
Included in RPM's Singles Club selection (January)
VEGAM review:
NANCY BOYS introduce themselves as the offspring of The FRENCHIES so they have knocked at the right door. These cats started playing together in late 2019 but only introduce themselves now with four songs recorded live. "Nancies Are Comin' To Town" is a ROSIE cover and the first thing that comes to mind is that it fits them like a satin glove. "Swap Club Stud" offers us some cool 70s influenced cowbell rock'n'roll that makes you think that they might be right when they mention The FRENCHIES. "Gimme Love" has a bit of an early AC/DC meets BAD LOSERS vibe and "Bondage Love" brings us back to this moment in rock history when there was a fine line between hard rock and punk rock.
Call it glam rock'n'roll, hard rock'n'roll or punk rock'n'roll, it's only rock'n'roll and we like it !
/Laurent C.
The ROCKPIT review:
French Rock and Roll for most begins and ends for mist outside the Country with Jonnie Halliday but like any local scene there's plenty to love if you know where to look. So look this way for a little while. Nancy Boys got my attention mainly because of the name. I knew it wasn't the band that Nigel Mogg played in as we only spoke last year and he didn't mention anything. So I naturally assumed that they hailed from Nancy that wonderful city 'the capital of North Eastern France' where I had the best ever macarons and which was the birthplace of that rather elegant footballer Michel Platini!
They actually hail from Paris so I can only assume the name might be an homage to The Queerboys who went on the become The Quireboys and whose dirty Stones-like sound isn't a million miles away.
This may only be a four track teaser but it's well worth a listen if you love that ramshackle Blues- infused approach to rock and roll where the look and the attitude is an essential part of the make-up of any band you'd want to be a part of! This is definitely 'of the 70's' and some might say rather akin to The Frenchies (a band Chrissie Hynde played in for a couple of months) a classic underappreciated Glam band from Paris whose 1974 album 'Lola-Cola' is well worth adding to your collection and certainly had that Stonesy twang.
You get a real taste of what might be here with the low-fi low-key stomp of 'Nancies are Coming to Town' which you've heard a million times before but not with that accent and that swagger. 'Swap Club Stud' even adds some cowbell to that very familiar riff and indecipherable lyrics. It's all decidly and wonderfully shambolic.
'Gimme Love' Rocks a bit harder and is more Johnny Thunders than The Stones and closer 'Bondage Love' (the fourth of four songs ostensively about sex) that's more Dolls than anything else here. I'm intrigued.
The press release can't help but fill in the gaps adding that as well as these four originals the guys play songs by "artists like Streak, Billion Dollar Babies, Rosie, The Hollywood Brats, Brett Smiley… Well, you get the picture!" Indeed we do. Now get back in the studio and find a producer.
7.5 / 10
SLEAZE ROXX review:
A swift double take ensured that this isn't a comeback from those mid-'90s lipstick smeared, grunge affected pseudo glam-sters Nancy Boy that featured the son of one of The Monkees and Quireboys' Nigel Mogg among others; but another retro influenced, Paris based set of glam stompers who have simply affixed a plural to their name to presumably avoid such a comparison!
This first offering kicks off with "Nancies Are Coming To Town" that revels in the rhyming couplet "Nancies are coming to town so come on get your knickers down" which immediately sets expectations to a less than moderate level. (...) "Swap Club Stud" (...) "has" a real stomping song potential (...)
(...) "Bondage Love" has guitarist Fred "Poster" Boy in full on Johnny Thunders mode, whilst the rhythm section of Lionel "Pretty" Boy on bass and Nick "Golden" Boy on drums acquit themselves in the same ramshackle fashion.
It is fun, (...). The lyrics are of course firmly tongue-in-cheek and Matt "Naughty" Boy is well suited to frontman duties,(...)
A few years ago, the likes of Hammered Satin, Creem Circus and Streak heralded the return of this campy, sleaze glam styled genre and Nancy Boys have the potential to add to that list, perhaps even outlasting those short lived bands. (...)